Jenny Zhou, Company President, Translator, Chinese Attorney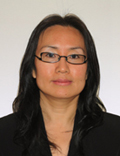 Mrs. Jenny Zhou is the president of the company Quality Chinese Translation Services. She has over 17 years experience as a licensed, senior lawyer in China. In addition, she has her JSM Master's degree from Stanford Law School as well as MBA training from China. She now lives and works in Sunnyvale, California and runs a proven and successful translation business there.
Mrs. Jenny Zhou started her legal career in 1980 in Beijing, China. She first worked for the Chinese government as a lawyer in the import & export business for over 5 years. After that, she worked for many multi-national companies in high tech, telecommunications, start-ups, pharmaceutical industries like Hewlett-Packard, Motorola, and United Platform Technologies. She was the director of the legal department in her last employment position for United Platform Technologies in China.
She is highly experienced in assisting clients in import-export trade, foreign investment (wholly foreign owned enterprises, joint venture companies, and representative offices), intellectual property rights, licensing, OEM, merger & acquisition, company spin-off, and all kinds of daily commercial contracts.
Mrs. Jenny Zhou is a graduate of the Beijing University Law School. She has a JSM Master's degree from Stanford Law School.
She is a member of the State Bar, China since 1989.
Joe Orzehoski, Translation Project and Quality Assurance Manager
Mr. Joe Orzehoski is the project and QA manager of the company. He has 6 years working in the translation industry and over 19 years experience working in the computer industry for companies like Hewlett-Packard and the Santa Cruz Operation Group. Mr. Joe Orzehoski has been in this position since 2007. As the translation Project Manager he insures that your translation is confidential and meets our high quality standard and your requirements from start to finish.